Do you love black? Which black trousers are right for you?
Considering their frequency of use, versatility, and practicality, black trousers will continue to be an essential wardrobe piece for the Autumn-Winter 2023/2024 season. Black trousers serve as the perfect foundation for an endless variety of outfits.
It's crucial to select black trousers based on your body shape to enhance your silhouette, ensure comfort, and achieve a proportional look. Whether you prefer skinny, wide-leg, pleated, or bootcut trousers, there's a timeless staple for every style.
Which Ones to Choose?
Pear-Shaped Silhouette
The pear-shaped silhouette, one of the most common body types in Italy, is characterized by a slim waist and hips wider than the shoulders. Unlike an hourglass figure, this physique tends to be slimmer in the upper body and curvier in the lower body. The goal with clothing is to balance these proportions by broadening the shoulders with jackets or tops that add volume to the upper body. Simultaneously, it's essential to minimize the wide hips with high-waisted and narrow-waisted black trousers that gradually widen down the leg. Whether they're wide-leg or bootcut, the key is to maintain a harmonious appearance.
Our Recommendations
SHAFT High-Waisted Black Slim Zipper Jeans for Women - 30% Off
TADASHI Black Technical Fabric Women's Pants TAI235011 - 20% Off
LA FEE MARABOUTEE Women's Wide Black Pants with Pleats MOD FC1428 - 30% Off
Apple-Shaped Silhouette
Women with an apple-shaped silhouette, characterized by similar-sized shoulders and hips with a less-defined waist, have many options to choose from. The strength of this body type lies in the slim and straight legs, which can be accentuated with form-fitting black trousers like cigarette-style models, known for their timeless elegance. Skinny black trousers are also an ideal choice to embrace the return of indie sleaze trends seen on the runway.
Hourglass Silhouette
Recognizing your body shape is a significant milestone in defining your style. The key to a successful look lies in harmonious proportions and comfort, achievable by selecting garments specifically tailored to your silhouette. For those with an hourglass silhouette, ideal black trousers for Autumn-Winter 2023/2024 can be flared or simple cigarette-style models. Opt for a high or medium waist to shape your outfit and enhance your curvaceous figure.
Our Recommendations
7.24 Women's Black Flared Pants with Regular Waist MOD EVELIN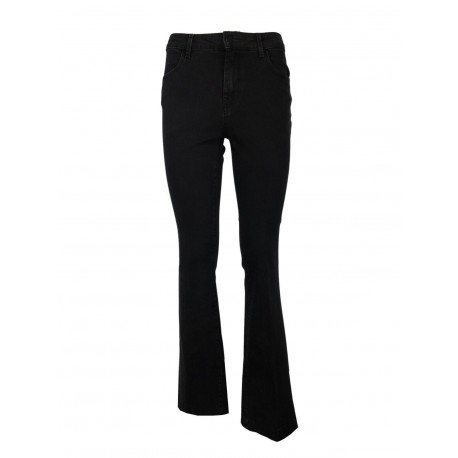 Rectangle Silhouette
The rectangle silhouette is highly coveted because, despite having a rectangular chest shape with minimal curves, it features toned arms and legs and an overall proportionate appearance.
Our Recommendations
LIVIANA CONTI Black Garment-Dyed Fleece Pants ART F1WW48 100% COTTON -50%