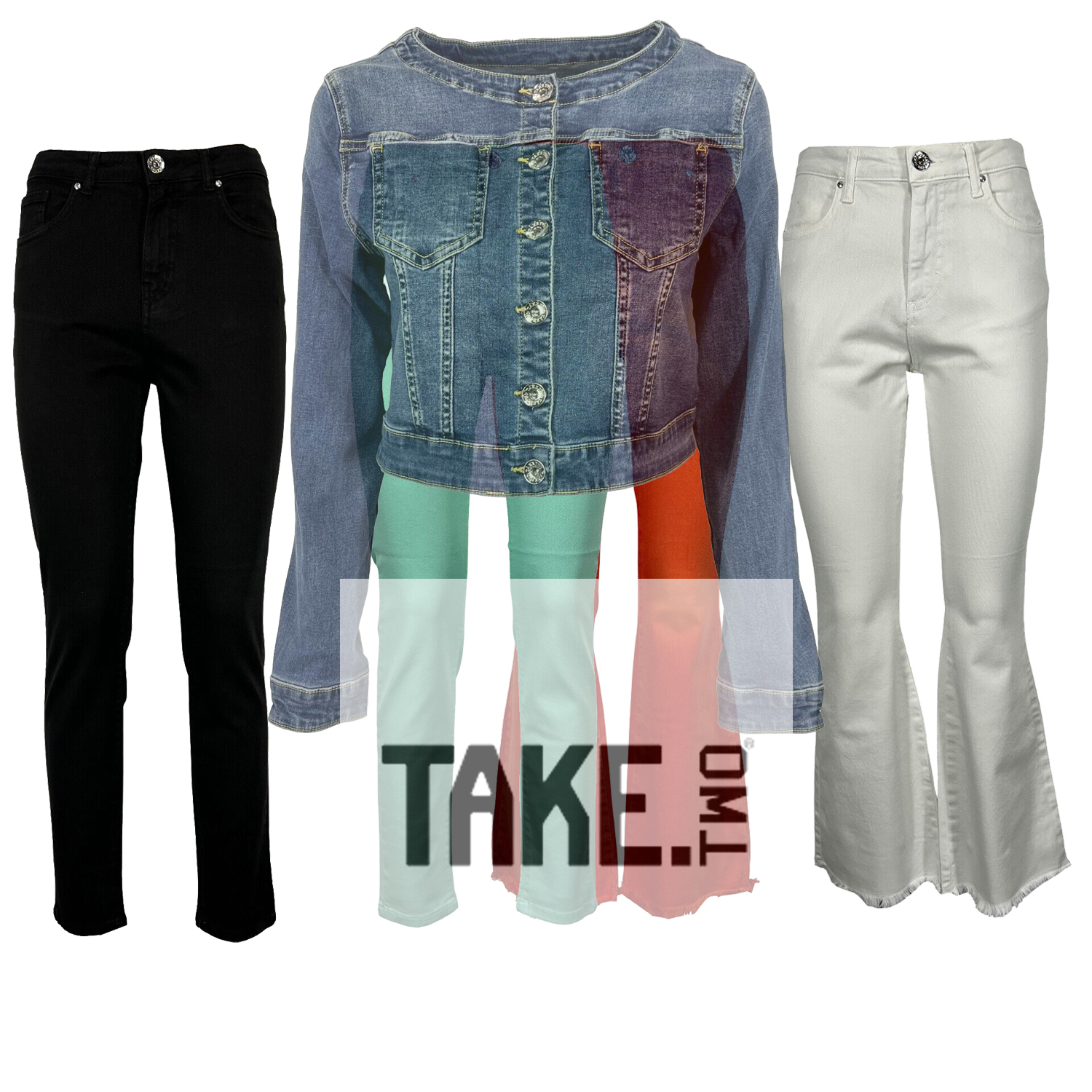 TAKE TWO : contemporary designs and ethical productions
Take Two is a brand that has been dealing with fashion for over three decades, offering a wide range of clothing
and high-quality accessories for men and women.
The brand is known for its contemporary and trendy designs, and its commitment to using sustainable materials
and ethical manufacturing practices.
One of the distinctive items of the Take Two collection are the colored jeans.
These jeans come in a variety of bold colors, including red, black, white, and green, and are stocked
in both flared style and slim fit version.
Take Two's colorful jeans are made from high-quality materials that are durable, comfortable, and easy to care for.
They are a great way to add a pop of color to any outfit.
Another standout item from the Take Two collection is the denim jacket.
It's a versatile piece that can be dressed up casually or dressed up, and is perfect for layering over a t-shirt or sweater.
On our website you can find the DKE4817 model.
The jacket features a slim fit, making it an ideal choice for those wanting a more tailored look.
It's crafted from high-quality denim that's soft and comfortable, and features classic style details like buttoned cuffs,
wide neckline and chest pockets.
In addition to these garments, Take Two offers a huge range of other clothes and accessories, including tops, dresses, skirts and bags.
The brand is committed to using sustainable materials and ethical manufacturing practices,

and works to minimize its impact on the environment.
If you're looking for high-quality, trendy clothing that's both stylish and sustainable,Take Two is a brand to consider.
With its colorful jeans and denim jacket, the brand offers pieces that are sure to enhance your style.
So why not add some color to your wardrobe with Take Two?
https://whttps://www.alori.it/en/571_take-twoww.alori.it/en/571_take-two